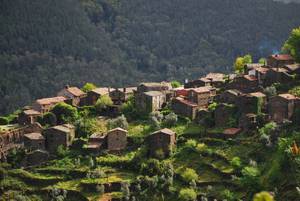 The Lousã Mountain (Serra da Lousã) uniquely combines the cultural and human aspects of the Schist Villages with the natural environment and leisure opportunities that its landscape offers.
It is home to red deer, wild boar and roe deer that peek through the cork oaks, chestnut trees, oaks and, of course, pines. Science suggests that the gold-striped salamander (Chioglossa lusitanica) originated here. Of the 27 schist villages in central Portugal, five are situated in Lousã and make for pleasurable day of walking.  The mountain is crossed by numerous hiking/mountain biking trails and paths that lead us to St. António da Neve, Alto do Trevim, Lousã Castle or to the Shrine of Our Lady of Mercy, not forgetting the river beaches.
The Serra da Lousã, together with the Açor Mountain and the Serra da Estrela, form the most imposing of Portugal's mountain ranges: the Central Cordillera. The Lousã Mountain forms the southwest edge of this cordillera. Being formed primarily of Pre-Cambrian schist, it is therefore geologically very old. These mountain ranges also form the watershed between the river basins of the Mondego and the Tagus. The Serra da Lousã covers the municipalities of Lousã, Góis, Castanheira de Pêra, Miranda do Corvo and Figueiró dos Vinhos.
It slopes steeply down to almost flat plains that stretch northwest. It is deeply incised by watercourses, the most important of which are the Ribeira de Pena to the north, the Ribeira de São João to the northwest, and the Ribeira de Pera and Ribeira de Alge to the south. To the east looms the quartzite ridge of the Penedos de Góis. However, its highest point is Alto do Trevim at 1204 metres.
On the paths in its woods, red deer cross our path or we hear the roar of the rut in the distance. Roe deer also occur here, but are more difficult to spot. When autumn brings its colours to the deciduous broadleaf trees, the woodland flowers turn into honey.
Plan your walking route and stop overs at https://aldeiasdoxisto.pt/en/poi/