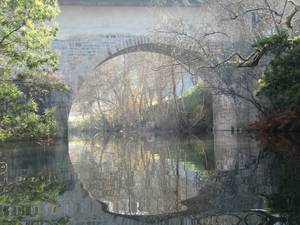 We believe that slowing down is the secret to developing artist's unique sensibility and vision. Artists deserve a place to step out of the contemporary urban cult of speed, to devote quiet time for re-evaluating the quality and meaning of their artistic practice. 

-  Prof Kris van 't Hof & Celia de Villiers


You are invited to make time for your creativity. Ponte d'Arte is for your quiet retreats and getaways.  It is a place for you to focus on personal projects, art-making or writing. Take long walks in nature or in our small village. Fresh bread delivery daily, and fresh fish twice a week, a 15-minute drive to the supermarkets, banks, and 7 minutes to a smaller grocery store.
We welcome students, lecturers, artists, designers, architects, ecologists, musicians, performers and other creative persons.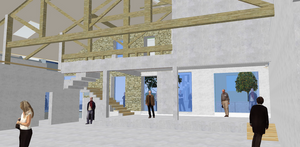 Exceptional meeting spaces
Studios
Accommodation
Meeting facilities
Exhibition spaces
Concert Hall
Performance spaces
Film and Video screening spaces
An inspiring cultural setting and rich historical landscape
It is a place where both conceptual development and technical skills in different media share equal importance.  See a full list of our spaces here.
Scenic Location
Ponte da Mucela is located in mid-Portugal, 30 km from Coimbra, 140 km south of Porto and 220 km north of Lisboa. 70 km from the Atlantic Ocean and 150 km from the Spanish border.
Individual or Group Stays
At Ponte d' Arte we can accommodate several groups and individuals who want to work independently, or in collaboration with professors.  Stay for a day, week or month.  We can currently host up to 15 people for a variety of workshops or conferences, in which artists can experience village life in the countryside.
Attend Master Classes 
Twice a year, during March and September/October, we host international contemporary art students for master classes and workshops, including conceptual development, drawing, painting, sculpture.
Artist Residencies 
For longer term visitors such as writers, artists, performers, poets, ecologists, musicians, or academics on sabbatical, we offer two private 'artist in residence' apartments.  Currently all funding is undertaken by the resident artist, unless by special invitation.  See some of our past and present resident artists here.
Nature, Culture & Lifestyle Attractions
Apart from the landscape in walking distance, inspiring day trips are warmly recommended. There are a wide variety of cultural and lifestyle attractions within 30 mins drive of Ponte d'Arte.
These include historical architectural sites from the stone age to Roman to Gothic and Baroque, as well as hiking trails to secret waterfalls, walks and wild swimming (in summer only!) within 1hrs drive in the surrounding countryside. 
Celia's Guidebook on Airbnb details the best local secret tips for home-cooked Portuguese dining, chanfana (goat stew) Caipirinha (lime cocktail), pastries, and breathtaking scenery, as well as all the budget shopping you'll need to make the most of your stay.