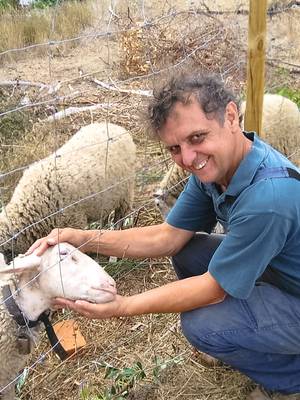 Biography
Kris van 't Hof designs, co-produces and teaches situation-specific art projects and practices. He specialised in Monumental and Environmental Arts at the Royal Academy of Fine Arts (KASKA), Antwerp, BE, and at Masters of Fine Art level at the National Higher Institute of Fine Arts (HISK). He is teaching in the In Situ department and also lectures in figure drawing and conceptual art up to post-graduate level at KASKA. He was awarded a fellowship in arts-and-cultural heritage by the Andrew W. Mellon Foundation in 2014.
Van 't Hof organises international workshops and study trips promoting transnational artworks and the collaboration of artists. He has been a guest professor at Universities in Krakow, La Laguna, Turku, Roma, Oslo, Athina, Delphi, Rethymnon, Syros & Hydra, Sofia, Varna, Praha, Porto, Lisbon, Leiria, Dublin, Sevilla and Zagreb in Europe, Sarasota (US), Pretoria, Midrand and Johannesburg (South Africa).
He has adjudicated several art competitions in Europe and has received numerous awards for his own artworks, such as from OPEL, Belgium. Van t' Hof has completed eighteen public art projects (two-and three-dimensional works) and designed stage sets, amongst them for the National Opera in Brussels and the Royal Ballet in Flanders. His paintings are in private and corporate collections worldwide.
Most recently (2015 – 2018) he has been engaged in IPIP (In Public in Particular) with art academies in Turku, Dublin, Zagreb and Antwerp, funded by Creative Europe. Its manifestations included social interactive projects, performance art happenings and collaborative community parades in Antwerp, BE, art-directed and co-ordinated by Van t' Hof.
A key component of this research concerns the engagement and development of audiences; specifically focused on working in local situations and small neighbourhoods. Practice-led research reports are available for download (http://ipip-project.eu) and in print (In public in particular - art and exchange in four European cities, November 2018).
With the South African artist Celia de Villiers, Kris Van 't Hof co-directs the residency and teaching programme at Ponte d' Arte (Arts Bridge), in Ponte da Mucela, near Coimbra in central Portugal.
 See his work at http://www.krisvanthof.com 
Kris is the artist mentor on the popular In Situ3 Master Classes.